How are you all doing? I hope that all is well with you and your family!
I am so excited to announce that the WAVES TO THE POINT SHAWL is one of the patterns being featured on the FALL WEARABLES BLOG HOP! You can download the WAVES TO THE POINT PATTERN for FREE (24 hours only). Scroll down for more details about this blog hop and how to download the pattern for free!
Last month was really a busy month for me. I had a lot of things accomplished, but I also felt exhausted! So thankful though that I was able to take a break. My family and I went up north to the White Mountains, New Hampshire. It was a great adventure, but it's also tiring! Feeling like I need another vacation after that vacation, haha!
It's time for another pattern release, yay!
This pattern is a collaborative project with Teresa from Fuzzy What Knots, who graciously provided all the yarns I used to crochet this shawl!
This project is so special to me. I learned a lot throughout the process of this project. I even almost gave up and asked Teresa to send me an invoice. So glad that Teresa is so kind and she encouraged and lifted me up. She didn't give up on me and I am so grateful for that!
You may be wondering why I almost gave up. Well, at first I got so excited when I received the gorgeous yarns. I started at once and I was loving how everything was turning out. Along the way, as I was progressing with my work, I felt like it's not really what I wanted. The ruffles are getting heavy and I didn't like it! I ripped off my almost finished shawl and then life happened! I received yet another sad news from my family. I was discouraged and feeling unmotivated. Like what I said, I messaged Teresa about it. She was so considerate, very understanding, and she told me to take it easy and just do what I can.
With all that being said, I regained my motivation to start my shawl all over again. I made my adjustment until I finally got the right stitch counts and the style that I was aiming for. I worked hard on finishing this project and am so thrilled with the final result. Of course, much better than the first one!
THE PATTERN NAME
Now, let's talk about the name of the pattern. If you haven't known me yet, I love anything blue and when working with shawls, I love gradient kind of yarns. Teresa experimented on dyeing and putting together the colors I wanted and she didn't disappoint me! She got me and the yarns she dyed were much better and softer in person! So, the colorway or kit I used is called the Stormy Seas (see photo below). This colorway captured the great colors of a stormy sea — the waves! Teresa was the one who suggested the name after I showed her my WIP (work in progress)! The colors and the semi-ruffled edging resemble the WAVES of the ocean, and of course, the center point of the shawl represents the POINT where the direction of the waves meet.
For me though, there's a lot to the name — Waves to the Point! The waves represent the struggles and the emotions I encountered while making this shawl! It was hard for me to the point that I almost gave up! But then again, I am so glad to have Teresa who got my back and pushed me to finish this project! Yay!
THE PATTERN
The Waves to the Point Shawl pattern features basic crochet stitches such as chain, single crochet, and picot stitch. Though it is labeled as Intermediate, Advanced, and/or Adventurous Beginners can definitely make this one! I would say that this pattern requires attention, especially when working on the ribbed section. But, if you love a good challenge, this shawl pattern is for you!
WAVES TO THE POINT SHAWL
SKILL LEVEL: Intermediate
MATERIALS
Fingering Weight Yarn | 3 skeins | 1,380 yards | 300 grams | I used Fuzzy What Knots – Stormy Seas: Flawless Fingering MCS, 3 skeins (1 full skein|100 grams, 4 – 50 grams)
Crochet Hook Size 5 mm or size to obtain gauge
Scissors
Tapestry Needle
3 Stitch Markers
GAUGE: 6 sts x 7 rows = 1 inch
GAUGE PATTERN (Please refer to the photo-tutorial below)
Row 1: Ch 11, SC in the 2nd ch from the hook and in every ch across. Turn
Row 2: Ch 1, Sl ST in the BLO in each st across. Turn
Row 3: Ch 1, SC in the BLO of the current row + FLO from the previous row in each st across. Turn.
Row 4 – 7: Rep Row 2 and Row 3.
FINISHED MEASUREMENT: Approximately 30" height x 60" width (unblocked)
STITCHES AND ABBREVIATIONS | US Terminology
Ch(s) – Chain(s)
BLO – Back Loop Only
FLO – Front Loop Only
MR – Magic Ring
Rep – Repeat
PM – Place Marker
Prev – Previous
SC – Single Crochet
Sl St(s) – Slip Stitch(es)
Sk – Skip
Sp – Space
P – Picot – this stitch is made on top of another stitch. To begin ch 3 then slip stitch in the two front loops of the previously made stitch.
NOTES
Read the pattern carefully before starting.
The beginning ch 1 does not count as a stitch.
Asterisks * * indicate repeat instructions between asterisks as many times as directed or repeat at specified locations.
Parentheses ( ) are used to indicate a group of stitches to be worked in the same st/sp.
I recommend using stitch markers to mark the beginning, the center sp, and the last st of each row. Remember to move up the stitch markers every time you finished a row.
I recommend working your slip stitches loosely so it would be easier to "catch" the BLO/FLO when working on the next row.
Increases are done in every row, but the only time you have to increase in the 1st and last stitches is when you're working on the BLO + FLO rows.
If you're using the Fuzzy What Knots kit, I highly recommend that you swatch gauge. This is to make sure you will have enough yarn to finish your shawl.
PHOTO-TUTORIAL ON HOW TO WORK THE FLO OF THE PREV ROW AND BLO OF THE CURRENT ROW
THE KIT
Teresa has created kits for these shawl pattern. You can find these kits on her website Fuzzy What Knots. The kit options are Stormy Seas – this is the one I used but Teresa modified one of the colors, Ocean Vibes, The Hippie on the Beach, Delicate and Sweet, and Sky and Sea. There are also 2 options for the yarn base. The FUZZY FINGERING 75/25 is 75% Superwash Merino Wool and 25% Nylon. It has 463 Yards / 100G – 4 Ply Yarn, 115 Yards / 50G Skein. The FLAWLESS FINGERING MCS is 70% Superwash Merino, 20% Silk, and 10% Cashmere. It has 437 Yards / 100G -3 Ply, 109 Yards / 50G Skein.
These kits are dyed to order, allow up to 2 weeks for shipment! Go, hurry, and order your kit now!
FALL WEARABLES BLOG HOP
The Fall Wearables Blog Hop will run from the 22nd of September to the 12th of October GMT with one pattern available FREE for 24 hours from 8 PM EST|1200 AM GMT to the following day 8PM EST|1200 AM GMT through the blog post.
Here's how to participate:
Everyday visit the FALL WEARABLES BLOG HOP post to see the free pattern of the day.
Click on the link for the pattern.
Each pattern PDF is available for just 24 hours from 8 PM EST|1200AM GMT to the following day 8PM EST|1200AM GMT, so be sure to check back everyday to make sure you get all of them!
The WAVES TO THE POINT SHAWL is being featured on Sept 29th as one of the free patterns available for one day only!
Be sure to check back the blog post everyday to see what new fall pattern you can download for free!
***
My pattern testers love this pattern and I can't thank them enough for all the help they've given me to make this pattern a better one. Check out their amazing work!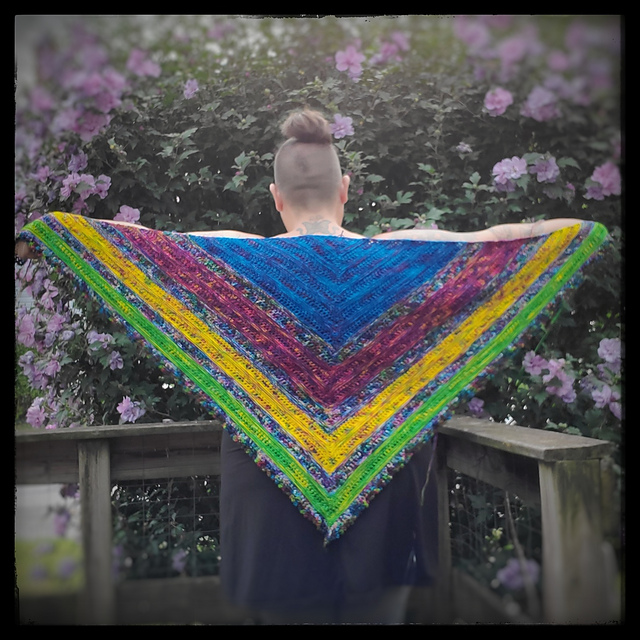 Aren't they all lovely?
I can't wait to your version! I hope that you will make this shawl and please don't forget to share with us your version!
Purchase the Waves to the Point on my Ravelry shop for easy printing and reading. Purchasing the PDF file helps to support my blog and allows me to continue to share my patterns with you. Thank you so much!
Happy stitching!
XOXO
***
All images and patterns are the copyrighted property of STRINGS AND CUDDLES. You may sell any items that you make from this pattern. You may NOT use my images. Please DO NOT copy, redistribute or claim as your own. If selling items from this pattern, please give credit to STRINGS AND CUDDLES by linking to my shops or on social media @stringsandcuddles.
I would love to see what you create! Please use these hashtags to share: #stringsandcuddles, #stringsandcuddlesdesigns, #wavestothepointshawl
Please don't hesitate to reach out for questions regarding this pattern.
Connect with me Instagram | Pinterest | Facebook | Blog | Ravelry
***